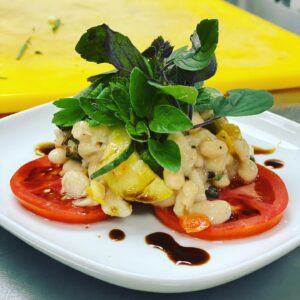 If you or someone you know in Davidson or Williamson County facing a cancer diagnosis and could benefit from the gift of healthy food prepared with love, you have come to the right place!
Our Meals 4 Health and Healing program provides beautiful, delicious and nourishing meals to people in our community who are in crisis due to a cancer diagnosis. Thanks to our many volunteers and the financial support of our donors, these meals are free of charge for the first 12 weeks and delivered directly to our clients' homes.
All recipes are 100% dairy-free, gluten-free, free from processed sugar, and organic. Click here to learn about our recipes and weekly menu. In a typical week, clients will receive mineral broth, a hearty soup, cod or salmon, a chicken dish, salad with dressing, and two side dishes.
Ingredients are sourced locally when possible from Bloomsbury Farm, West Glow Farms, Turtle Creek Farms, Field of Dreams Farm, Green Door Gourmet, Delvin Farms, and the M4HH Giving Garden,
If you have questions about receiving our meals, please email clients@hfmeals.org.
To receive meals, please complete the Client Intake Form and Pre-Survey Form and return via email to clients@hfmeals.org, mail to 4004 Hillsboro Pike, Suite 223-B, Nashville, TN 37215, or fax to (615) 953-3704.
To receive meals, please complete the Client Intake Form and Pre-Survey Form and return via email to clients@hfmeals.org, mail to 4004 Hillsboro Pike, Suite 223-B, Nashville, TN 37215, or fax to (615) 953-3704.
Our Meals 4 Health & Healing program is for people living in Davidson and Williamson Counties who are currently in active cancer treatment. If you would like to reach out about the possibility of you or a loved one receiving our nutrient-rich meals, please email clients@hfmeals.org and we will contact you within 2-3 business days.
The diagnosis of a serious illness like cancer often provides an opening to change someone's lifestyle habits that may have been detrimental to their health. Diet is at the top of the list. Nourishing meals during treatment can make a vital difference to cancer patients, as research shows that nearly 80% of cancer patients end up malnourished as a result of treatment. Being poorly nourished worsens side effects, reduces the effectiveness of treatment, and lengthens recovery time once treatment ends.
In addition:
52.5% of all deaths in the U.S. are from diseases where poor diet is the precipitating cause (cancer, heart disease, stroke, and diabetes).
The U.S. spends at least $500 billion on health care annually on conditions that are preventable by dietary changes.
Only a small percentage of all adults in our county are eating five servings a day of vegetables and fruits despite overwhelming data that higher intakes of fruits and vegetables reduce the likelihood of developing diabetes, heart disease, stroke, and cancer.
The generation of young people growing up today may be the first in recorded history to have shorter life spans than their parents.
While research strongly supports the link between strong social networks and longer, healthier lives, more of us than ever before feel isolated and alone.
A 2006 study asked Americans, "If there was a crisis in your life, how many people could you turn to for help?" The average has fallen to 2.1 people, but even more importantly, 25% of people said they had no one.
Meals 4 Health and Healing is addressing these issues with an innovative model that combines support services to those who most need it, hands-on learning for teens, clients and others, and the involvement of volunteers, businesses, and organizations throughout our community.
Meals 4 Health and Healing currently provides meals to anyone living in the Davidson and Williamson Counties currently going through active cancer treatment. Treatments can be traditional or alternative. The wonderful people we serve, we call them clients.
You may receive meals for 12 weeks free-of-charge for yourself and your caregiver. Of course, if you are able to make a donation to support our costs, we encourage you to do so. If appropriate, we will extend service for another three months (12 weeks), for a total of 6 months, or 24 weeks, in the program. Beginning with week 13, we will ask that you make a minimum donation of $10 per person per week towards the cost of our meals and continue that payment through week 24. This allows us to make our services available to others who also are in cancer treatment.
When you become a client, our client manager will be your first point of contact for any questions or changes and they will check in with you on a regular basis as well. If, for some reason you cannot get in touch with your Liaison, you can also contact Robin, our Client Manager at (615) 730-5632 or via email at clients@hfmeals.org.
The healing and nourishing meals are prepared by teen and adult volunteers and delivered by volunteer Delivery Angels each week. If you have special delivery requirements, please let us know! We leave your meals in a cooler with ice packs by the door.
We are very mindful of certain side effects from treatment in planning the weekly menu. We are able to modify meals to support a variety of dietary needs, with certain restrictions. There are two options we provide for our regular menu or we are able to offer a "Plain and Simple" menu were everything is prepared without any seasoning.
Each client and their caregiver will receive 8 dishes per week- one with fish, one with chicken, 2 vegetable proteins, 2-3 hearty soups, and a side dish. Meals tend to provide food for 3 to 4 days.
Meals 4 Health and Healing is committed to using ALL fresh, organic ingredients in the preparation of our meals. We take pride in providing meals that are not only nourishing, but beautiful and delicious.
Every meal is made from scratch by loving volunteers. We include dark leafy greens, cruciferous vegetables, dark orange vegetables, sea vegetables, and mushrooms as often as possible. There is no white flour, sugar or processed food or additives in our meals. Our fish is always "wild-caught" and chicken is always "antibiotic and steroid free".
For more information on the ingredients we use, please download this handout.
Meals 4 Health and Healing relies on individual donations for the work we do. If it's comfortable for you, please let your friends and family know about the support you are receiving from Meals 4 Health and Healing, and encourage them to make donations to support our work. A monthly donation of just $40 will provide meals to a client for a week! All donations made are tax-deductible to the fullest extent allowed by law. Donations can be sent to The Heimerdinger Foundation, 4004 Hillsboro Pike, Suite 223-B, Nashville, TN 37215. Donations can also be made through our website on our giving page.
Often people would like donations to be made to Meals 4 Health and Healing in honor of someone they love. These thoughtful gifts play an important role in enabling us to serve our clients.
If you or someone you know would like to volunteer, please contact our Volunteer Coordinator at volunteer@hfmeals.org or call (615) 730-5632.
You can reach out to our Client Manager, Robin at clients@hfmeals.org. Please include your full name, phone number and a good time to call. Or call (615) 730-5632. Please leave your name, phone number, email and a good time to call you back. Next we gather some information, including demographics, diagnosis, health challenges and current treatment plan. This information will help as she can discuss the most supportive time to receive our nourishing and immune-boosting meals.
A Volunteer Delivery Angel will deliver a bag of prepared meals each week, beginning on your start date. We must have access to a cooler with ice packs outside of your home.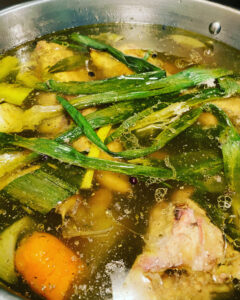 Every week clients receive a container of nutrient-dense Mineral Broth. This broth is perfect for clients who are having a hard time chewing or who have little appetite due to side effects from treatment. The broth gives clients vital nutrients when they need it most.