Nourishing Meals to Help You Heal
If you or someone you know is a resident of Davidson or Williamson County, is facing a cancer diagnosis, and could benefit from the gift of healthy food prepared with love, you have come to the right place!
Why Meals 4 Health and Healing
When you're facing a serious illness, like cancer, being well-nourished is very important. Meals 4 Health and Healing prepares and delivers immune-boosting, nutrient dense meals designed to support you when your health and appetite are compromised. Eating enough healthy food when you're ill can help…
reduce time spent in the hospital.

increase the effectiveness of medications.

improve overall quality of life.
What We Provide
Our Meals 4 Health and Healing program provides 8 beautiful, delicious and nourishing meals to people in our community who are in crisis due to a cancer diagnosis.
Thanks to our many volunteers and the financial support of our donors, these meals are free of charge for the first 12 weeks and delivered directly to our clients' homes.
All recipes are 100% dairy-free, gluten-free, free from processed sugar, and organic. Click here to learn about our recipes and weekly menu. In a typical week, clients will receive mineral broth, a hearty soup, cod or salmon, a chicken dish, salad with dressing, and two side dishes. *M4HH does not operate an allergen free kitchen. While we can accommodate some food preferences, we cannot serve anyone with a servere food allergy.
Service includes family members and/or caregivers in the living in the home.
Ingredients are sourced locally when possible from Bloomsbury Farm, West Glow Farms, Turtle Creek Farms, Field of Dreams Farm, Green Door Gourmet, Delvin Farms, and the M4HH Giving Garden.
Receive Meals
Please complete the online Client Intake and Pre-Survey Forms and our client manager will reach out to you.
If you have questions about receiving our meals, please call at (615)730-5632 or email clients@hfmeals.org.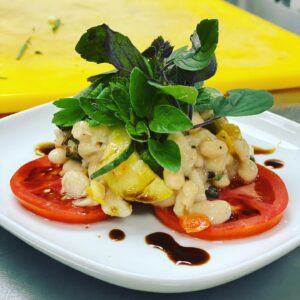 Our Meals 4 Health & Healing program is for people living in Davidson and Williamson Counties who are currently in active cancer treatment. If you would like to reach out about the possibility of you or a loved one receiving our nutrient-rich meals, please email clients@hfmeals.org and we will contact you within 2-3 business days.
"I absolutely love all the lentil, millet and quinoa meals.Thank you for letting me receive extra mineral broth when I needed it the most. I love receiving the notes and write notes back to the volunteers. What your program does makes a big difference in my daily life. I can't express how much I appreciate all the work you do!"