Saturday, Feburary 13, 2021
Celebrate Valentine's Day at Home with Those You Love!
Join with us and the talented Chef Skylar Bush (of Edible Nashville) for the ultimate virtual Hope For Healing At Home - All You Need is Love experience, now open for registration.
Sharing a 4-course dinner, the love of cooking at home, and music all to support hope, love, and healing for others.
From casual conversations to walking you through a sensational meal inspired by Meals 4 Health and Healing, we are ready to share with you a delicious, nutritious meal around the dinner table. From our kitchens to yours and from the comfort of your own home, along with some live tunes.
Learn to cook a Meals 4 Health and Healing inspired dinner with your purchase of a prix fixe dinner meal kit, which includes access to a live stream of the evening via Zoom, and an optional purchase of a bottle of wine with proceeds benefiting the Meals 4 Health and Healing program of The Heimerdinger Foundation. Never has our essential mission been more important for those we serve, and we need friends like you to join in the inspiration and fun of this evening by purchasing your meal kits, then sitting back with your first course and wine as Chef Skylar walks you through meal how the dishes were prepared while you enjoy your 4-course dinner. Feel free to invite your friends and family, as well as consider "gifting" this for a friend or family member.
Chef Skylar has prepared a delicious exotic winter menu for the event:
Individual Gluten Free Mini Baguette with compound "butter"
Cauliflower Vichyssoise with Dill Oil and Crispy Potato Skin
Roasted Beet Salad with Goat Cheese, Leek Ash, Pistachios, and Pickled Kombucha Vinaigrette
Choice in Entrees: Moroccan Spiced Heirloom Chicken Breast, Seared Salmon, or Roasted Root Vegetable Cakes in a Health and Healing Almond Cream Sauce
Crispy Maple-Mustard Brussels Sprouts with Sweet Potato Puree
Surprise dessert!
It'll be a night filled with entertainment, community, light cooking, and mouthwatering cuisine – all for a cause that provides a vital caring community for those facing cancer. You will pick up the meal kit with all ingredients in advance, and Chef Skylar will make the preparation simple, informative, and fun! We are so appreciative of your support. Meal kits must be ordered by February 3, 2021.
The Heimerdinger Foundation is a tax-exempt public charity (federal tax ID #45-4049457). All contributions are tax deductible to the extent allowable by law.
"We are loving the meals!! I had the salad with organic ginger and avocado dressing yesterday for dinner when we got back from chemo, and it was a perfect, delicious, light meal, especially since I was already nauseous and not hungry after chemo. Thank you again, and much love" current client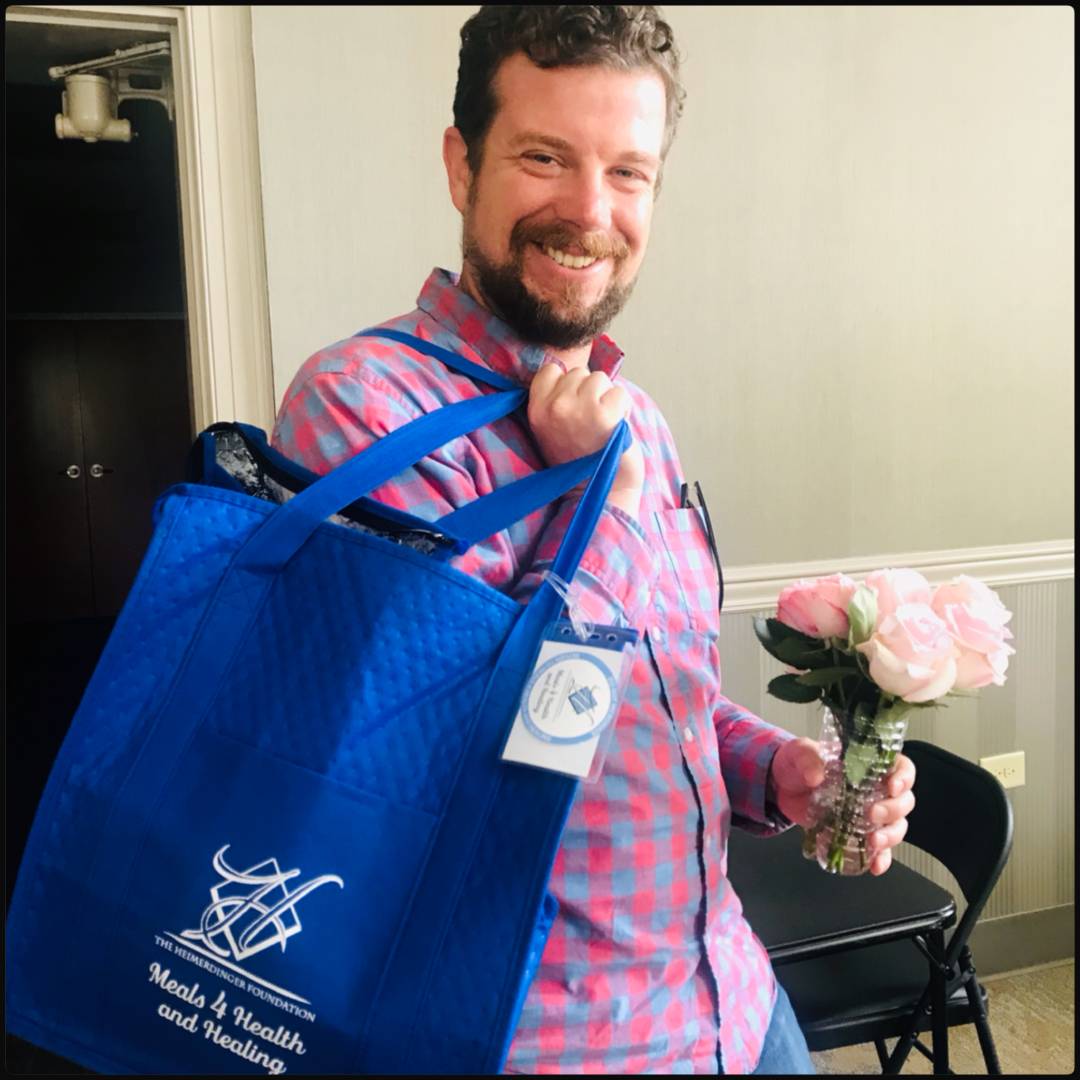 Meal Kit
In your Meal Kit, you will have a salad with dressing, appetizer, a choice of chicken, salmon, or cauliflower steak, and a dessert.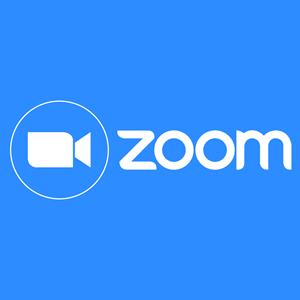 Cooking Demonstration on Zoom
Two days before the event you will receive Zoom credentials and login information.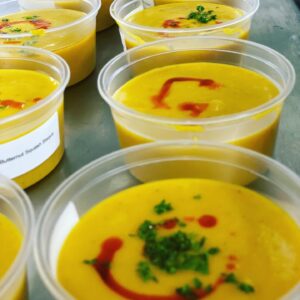 Ingredients and Recipe
We have an ingredient and recipe purchase option if you aren't able to join for the Cooking Demonstration.